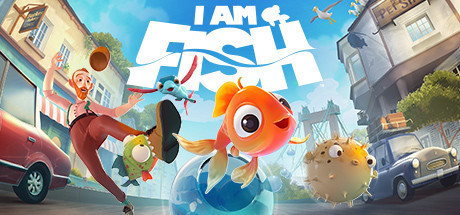 The game "I Am Fish," developed by Bossa Studios and published by Curve Digital, will be available on PC, Xbox One, and Xbox Series next month. Xbox Game Pass owners may also enjoy the new adventure of four different fish. The planned date of release is September 16, 2021. However, you can already pre-order this underwater masterpiece on Steam. The game's page also appeared on Microsoft Store.
Details on I Am Fish Gameplay
If you still can't get over the heroic adventure of Nemo and his father, Dory, and well…. any other fish that enjoyed the freedom until it got trapped, this story is created for you. Instead of one, you receive four of the fish characters. Here are piranha, goldfish, flying fish, and pufferfish. Although it would be wiser to leave piranha in a tank, the game developers want us to save the poor creatures. You will learn how to swim like a fish, roll, chomp, and even fly in an attempt to escape. The best way to reach the goal is to come up with a smart plan. Don't think it would be that easy. The game contains multiple challenges with worthy rewards.
You will not only explore the ocean but will also be able to travel around the city, rolling away from the cars. It is the best opportunity to see the adorable smallest county in England, Barnardshire. So if you are tired of sitting at home due to the COVID lockdown, you will appreciate the game.
"I Am Fish"' is available as a demo version on Steam. If you can't wait to see the full game, you can go to the store and download it for free on your PC. The demo version allows you to swim like a goldfish. You can learn its mechanics and collect the stars you need. The game is in single-player mode for now. Four different characters are there for a reason. Yet, who knows! The demo was highly praised by critics. If you want to play the full game that looks similar to "I Am Fish," check out the hilarious "I Am Bread," which is the prequel to the game made by Bossa Studios.