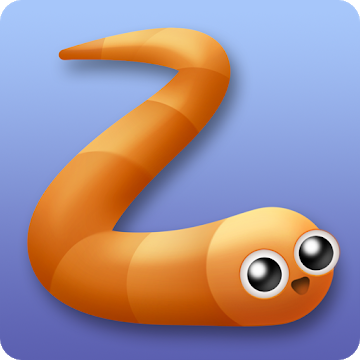 Latest Version:
Varies with device
White-ravens is not an official representative or the developer of this application. Copyrighted materials belong to their respective owners
slither.io review
The Multiplayer Snake
Do you remember the famous Snake? This game was the killer feature of Nokia phones (not even smartphones yet) in the early 2000s. Later, as Android and iOS took over, this game became available anywhere. Slither.io is a multiplayer take on the Snake, available for iDevices and Android phones and tablets.
The core idea is the same. You control a snake that eats colored dots on the field and thus grows. It's constantly moving. Not stopping for a second. Unlike the original game, in Slither.io you can cross your own tail, but should not run into other snakes. If you suddenly do, your snake dies and falls apart, and others can eat the remains and grow. So, your mission is to stay alive and grow as long as you can. There is a single-player mode also, but bot snakes are way too stupid, so after a while, you may find it boring.
The game is free, but it shows ads before you begin. You can turn it off for $3.99 and start a new game immediately after your snake dies. As the game gets very addictive, many will find it a good option. It's the only thing to pay for, as there is no subscription and no advantage one can donate for.
The End of the Field
As for controls, there are various options. Controls section includes a traditional virtual stick, tap to set direction or a combined option with an arrow that shows the direction. There is also an acceleration button; when you accelerate, your snake begins to glow on the dark background.
The field seems infinite, but it also has its limits. With a mini-map, you can look how far are you from them. The activity is concentrated in the central area, but really long snakes tend to hide away from this mayhem, so if you catch one there, you may become the next big thing. But beware: if your snake hits the border with its head, it dies and completely disappears, so no one benefits from it. It's a good way to end the game when you get tired, by the way.
Names Always Change
Ten best players (out of hundreds) are constantly displayed on the list in the upper right corner, and the top is full of declarations. As you enter your name each time you run the game, and it's never saved, the names are very creative. There are political slogans, insults for other players, or just funny puns. You can go with no name at all; then, if you make it to Top 10, your name will be just blank.
Choosing skins contributes to it. You can choose the skin colored like your national flag (or not yours), so it's a chance to declare your political views by both your skin and your nickname. And, of course, your skill; otherwise few will see it. That contributes to slither.io's addictiveness.
Pros
• Great multiplayer gameplay;
• Bright colors;
• Various control methods;
• Low system requirements.
Cons
• Ads get annoying unless you pay;
• Sometimes it gets political and aggressive;
• ​Single-player mode is boring.
Professional Critic
Lily Milton
Review Standarts
Our main goal is to provide full and useful app reviews. Our authors strictly follow the rules: minimum 15 hours of the real app usage experience or gameplay, test on main Android and iOS versions, test on phones and tablets.
slither.io